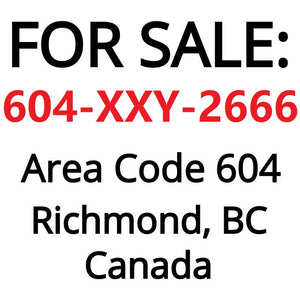 Are you looking for an easy to remember phone number for your business? For sale is a 604 number for Vancouver (Richmond) which is 604-33Y-2666. Easy to remember and affordable (Y is not 7)
This number can be ported to either cell phone providers, or many VOIP providers across USA & Canada. Before you purchase, give the number to your providers to check portability.
This 604 phone numbers comes with Public Mobile SIM card and it has 20 referrals and $130 balance left, which we included for free. This means you can keep $25 plan for 2 years without paying for 2 years easily. 
If you have any inquiries, feel free to send us a text message at 613-888-IIII. SMS or WhatsApp ONLY.