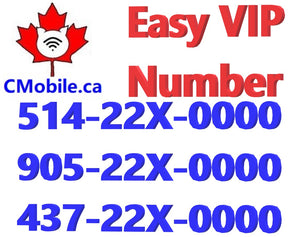 Are you looking for an easy to remember phone number for your business in Montreal or Toronto? For sale is THREE VIP phone numbers with same ending 22x-0000 ending.  If you have branches in both Toronto and Montreal, this will fit you perfectly (X is SAME digit from 3 to 9).
514-22X-0000 (Montreal)  . 905-22X-0000 (Toronto) and 437-22X-0000 (Toronto) . 
You can port it to other mobile company , either mobile or cloud PBX (ringcentral, Vonage or other VoIP companies)
You can make your company and yourself special with same ending, such as 905 (Toronto office), 514 (Montreal Office) and 437 (your own cell phone).  It's great for professionals who need easy to remember numbers for both Toronto/Montreal , as well as your own cell phone number.  
If you have any inquiries, feel free to send us a text message at 613-888-1111. SMS ONLY.