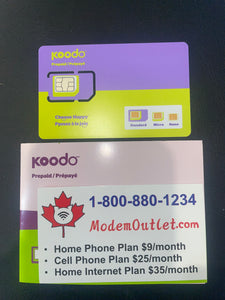 * SIM CARD only . Free shipping anywhere in Canada with letterpost * 
This SIM Card works with Koodo Prepaid plans only. IT DOES NOT work with Koodo postpaid plans. 
No credit checks.  No contracts. Koodo prepaid plans is just affordable and reliable national wireless service. It works with your any unlocked smart phones that uses a standard, micro, or nano SIM card.
This SIM Card is pre-cut with 3 sizes:  Standard, Micro, and Nano.  Depending the size your phone will take, please push out the large white card, the medium multi-colored card, or the small white card, and insert it into your phone.
Please simply activate the sim card at CMobile.ca , or call our Koodo SIM Card activaiton line (TBD soon).  Or contact us through WhatsApp/SMS 613-888-1111 for help.