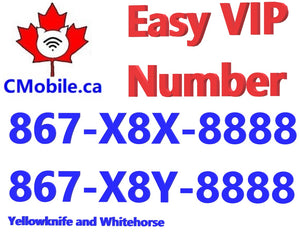 Are you doing business in North Territories and Yukon Territory. Or you need similar number for both area ? Here you go:
North Territories and Yukon Territory Lucky VIP number bundle  ending with 8888.  First 867-X8X-8888 is for Yellowknife and 2nd 867-X8Y is for Whitehorse. X is one digits and Y is the digits next to it. Or you live in other provinces and just want someone to call you easier from North Territories or Yukon so you can do business with them.
Both are on SIM cards with free service (the plan with minimum service and minimum mobile data usage). You can either upgrade the plan or use it as is. 
Or you need lucky number but don't want spamming calls. Both numbers are spamming calls free because spammers need pay extra to call North Territoris and Yukon number.
If you have any inquiries, feel free to send us a text message at 613-888-1111. SMS ONLY.