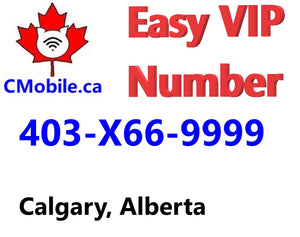 Are you looking for an easy to remember phone number for your business? For sale is a 403 number for Calgary, AB. This should suit your needs as the last four digits are 9999.
403-X66-9999
(X is a digit from 2 to 5)
This number can be ported to either cell phone providers, or many VOIP providers across USA & Canada. 
If you have any inquiries, feel free to send us a text message at 613-888-1111. SMS ONLY.
* These numbers are currently with a VOIP phone company now. You can either create a new account in same company, or port it to Mobile. Or pay $25 and we'll port it to mobile and send you the SIM Card