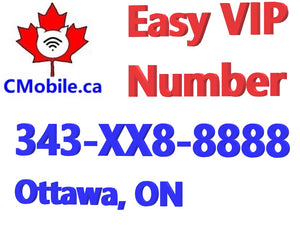 Are you looking for an easy to remember phone number for your business? For sale is a 343 number for Ottawa Ontario. Inside 343-XX8-8888 , XX is same digit which is not 8 ( Such as 66, 77 or 99), and 88888 in end.  It's very hard to find lucky number. Great for anybody who is doing business in Ottawa & Surrounding area. 
This number is  hosted in a VoIP provider now, but it can be ported to either cell phone providers, or many VOIP providers across USA & Canada. 
You can keep using it with current company or you can port it to other company (voip or mobile).
If you have any inquiries, feel free to send us a text message at 613-888-1111. SMS or WhatsApp or Wechat preferred.